We offer an individual lease.
The lease agreement is for the room. This limits your commitment and responsibilities to the other tenants of the property: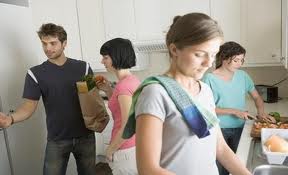 The amount of your rent is fixed: It does increase when a bedroom of the apartment is not occupied.
The lease term is up to you! You decide the date of your departure. The notice period is one month.
Your guarantors are sureties for you and you alone. This type of contract removes any tenancy clauses that bind roomates.
If you are eligible, our leases allow you to receive housing benefit. You can apply for the APL.
Make a simulation in the CAF's website, by clicking here.
While you are doing your simulation, you must indicate that:
Que vous louez un appartement > You rent to a private owner
Que vous louez ce logement avec plusieurs personnes > You are renting with flatmates
Que ce logement est meublé et enfin > The flat is furnished
Que ce dernier n'est pas conventionné > The flat is not under agreement